COZY is a fashion and lifestyle brand founded in 2019. in Belgrade, a brand that primarily supports comfort with a focus on natural biodegradable and organic materials and local production of essential fashion pieces for women. Quality, transparency and simplicity are the imperatives of our COZY team.
What characterizes us is a casual and clean style, a simplified and minimalist design, as well as a selection of colors that make it easy to combine. For all those who believe that strength lies in simplicity, COZY is a logical choice. Light and quick to put on and combine, COZY clothing is an investment in a more comfortable life.
The brand was launched as a response to the burning problem of fast fashion, which directly affects environmental pollution, and indirectly damages the health of people who are employed in factories that produce for fast fashion companies.
According to data from the UN Economic Commission for Europe, the fashion industry produces as much as 10% of the world's total CO2 emissions, which is five times more than the aviation industry. The problem lies not only in the production of clothes, but also in their disposal after they are no longer worn. Non-biodegradable materials sit in landfills for 200 years, clothes end up not only in landfills, but also in the sea, and things made of polyester release microplastics every time we wash them. From the ethical side, this industry is highly dependent on physical labor and employs around 40 million people around the world who are paid less than the minimum wage and work in inhumane conditions. Most of them are employed by women.
Our philosophy is 'buy less, choose carefully and whatever you buy – make it last'.
We choose quality over quantity at the most favorable prices.
We do not follow fast-fashion trends, but create our own world of fashion comfort.
Fast-fashion is a frequent choice when shopping precisely because it is fast and affordable. In this way, we often end up with clothes that wear out quickly and tear or do not last until the next season.
Slow-fashion, as an alternative, is part of the so-called slow movement, which advocates principles similar to those of slow-food, such as quality, ecology, as well as a fair approach to consumers and producers.
We saw the solution to the problem of fast fashion in local production, with careful selection of materials and design of models that will last for a long time. The need for comfortable basic clothes made of natural materials that fit well is one of the guidelines for designing the collections, and in addition, the design is adapted to online shopping and different body shapes, so we have a lot of elastic belts, wide models, tight but stretchy dresses, shirts -a dress with a belt that gathers at the waist.
The COZY web store is one place that will meet the needs of looking for essential products such as a classic t-shirt, tracksuit, white shirt or cotton dress for every day. The design we promote is minimalistic, timeless – and contemporary, and packed into one beautiful local and emotional story.
Instead of following trends, we at COZY invest time to create pieces that are timeless. That is exactly why we search for the finest materials and only when we are sure that we have chosen the best quality option do we start production.
Considering that women wear only 20% of their wardrobe, when I was thinking about starting a brand, I asked my friends to bring me their five favorite things that fit into that percentage. What was common to all things (and let's face it, these are different women with different styles), was simplicity, comfort and ease of combination. For one friend, it was Thai wide pants that she adores, for another it was a classic white t-shirt that she always wears with everything, for the third it was a simple cotton dress, but when she puts it on, she has the whole combination.
And through that and some other analyses, COZY was born, because the point is not to make something, someone buys it and you're done. What I wanted was to see how women would wear these things, combine them, give them life and meaning to the moments they spend in them. The point is that we enter that 20%.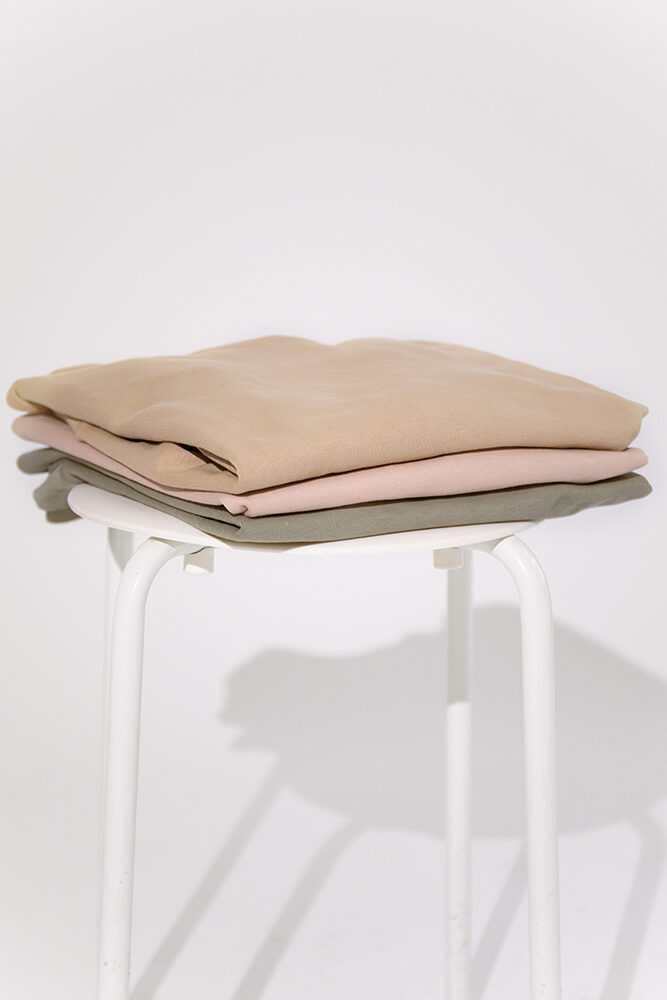 We don't throw away. We sell every feller and sample for humanitarian purposes. All leftovers from the tailoring of our collections are sent to the Women's Center in Užice, where women from vulnerable groups and victims of domestic violence work. They use these scraps to make different textile products from which they make a living.
When it comes to materials, we choose only the best. 100% natural, without the presence of allergens. Quality and soft materials are what we use for every garment because you deserve the best. Also, this is another way to mitigate the harmful impact of the fashion industry on the environment.
Cotton
Cotton is a light, durable and extremely adaptable material. It is also biodegradable, which is a big advantage when considering the harmful effects caused by synthetic materials.
Organic cotton
Organic cotton is produced in a traditional way, which, when compared to conventional cotton, is much more friendly to the global eco-system and human health. It is a far better choice for skin, especially sensitive and prone to allergies, because no chemicals, herbicides, pesticides or insecticides are used in its production, and therefore it protects the workers involved in its production. Also, the production of organic cotton uses 70% less water and 60% less energy than the production of conventional cotton. **GOTS certification guarantees that cotton production is thoroughly checked and monitored from the source to the final product (available on request).
Modal
Modal is a new material in our offer, made from natural raw materials and is completely biodegradable. It is soft and stretchy, breathable and "breathable". For us lazy people, it's great that it doesn't wrinkle, and with long use it keeps its shape and quality of texture – it doesn't make those lumps like cotton.
It is made from beech pulp, and is generally considered more ecological than cotton because beech does not require much watering, so it uses about 10-20 times less water than cotton. In combination with cotton, it is firm, and elastin gives it extra stretch.
Viscose
Derived from cellulose, viscose fibers have a silky appearance and this is the reason why this material, similar to cotton, provides a sense of comfort, breathability and absorbency. Viscose is a natural, sustainable and biodegradable alternative to synthetic materials such as acrylic, polyester, nylon and others derived from petroleum products.